Automating the customer onboarding process is so much more than just processing and verifying identity documents
At one of India's largest online marketplaces for buying and selling used cars, the client journey team identified that current onboarding automation solutions were not able to offer the differentiated onboarding experience they wanted for their customers. As part of the customer onboarding process, the company required evidence from their customers on Identity, Address Proof, Car Documents (RTO Forms and Car Registration and Insurance). Additionally, the company was planning to enter the Car Financing Business which required their customers to submit additional proofs of income such as Bank Statements, Tax Returns, Salary Slips, etc.
Customers submitted these documents online or via companies' agents, post which the operations team had to manually classify, extract relevant information from these documents and send it to downstream departments for processing.  To do this they relied on a large team of manual staff who reviewed millions of pages every month across several days causing delays.
The existing tools and solutions the company analyzed could not help automating this process, as they were limited in their capability to just read a few Identity documents and verifying them.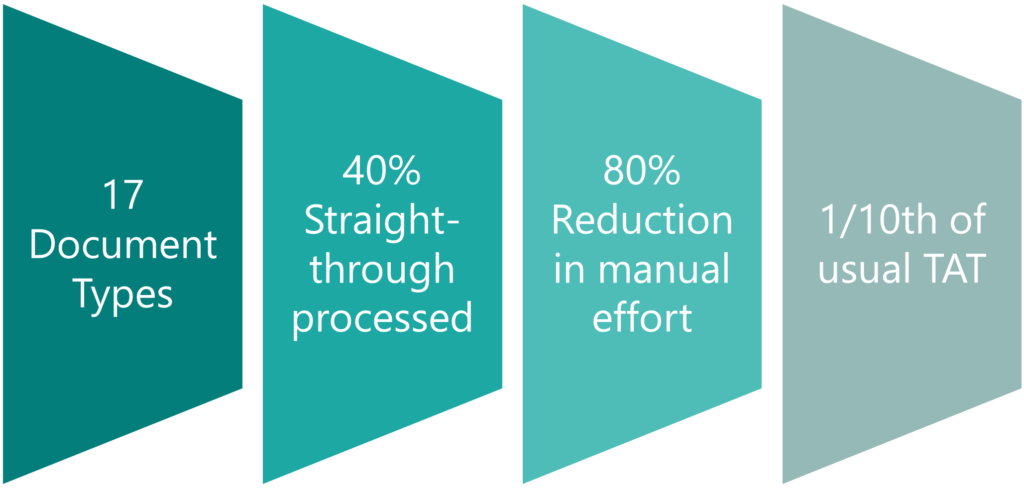 Leverage technologies to digitize, classify and understand documents at scale
IN-D was chosen by the company due to its ability to accurately understand and extract data from all kinds of structured and unstructured documents, regardless of the template. Using a combination of building blocks such as natural language processing, machine learning, and computer vision, IN-D configured a solution that can identify the 17 different document types in the process and extract relevant information from them.
The solution enabled the automatic classification and digitization of the following document types.
Document Class
Document Type
Identity Document
Aadhaar
PAN
Voter ID
Driving License
Passport
Income Document
Bank Statements
Salary Slips
Cancelled Cheque
ITR V
Car Document
Car Registration
Insurance
Other Documents
RTO Form 29
RTO Form 35
RTO Form 30
Electricity Bill
Bank NOC
Foreclosure Letter
Also, at each step in the process, a confidence threshold-based indicator ensured that all documents with low confidence indicators were routed straight back to a manual operator for review, ensuring that every case was accurate.  Working closely with the IN-D team, the company was able to configure a document workflow to automate the end-to-end process.
Reduced cost to income achieved with Differentiated Customer experience 
The solution has so far enabled 40% Straight-through processing thereby considerably reducing the average time taken to conduct manual checks. For non-straight through processing, the solution has significantly cut out the manual, laborious task of processing millions of pages each month.  This has also resulted in a positive and differentiated change in Company's customer experience.